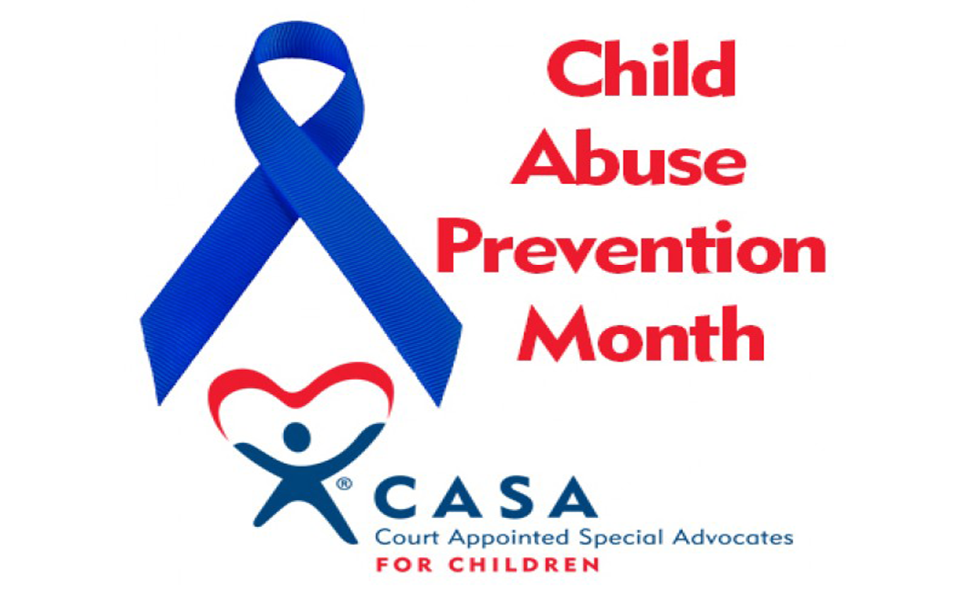 April is National Child Abuse Prevention Month. Utah CASA would like to take the opportunity to remind our community about the risk of abuse/neglect that children may face. Due to COVID-19, our lives have changed drastically in a very short time. It seems that "Stay home, stay safe", has become our national motto. Now more than ever, it is imperative that we pay attention to those around us.
Every adult is a mandatory reporter in our state. What does that mean? It means that, by law, you are required to report any suspicion of abuse or neglect. By making a phone call you set in motion a series of events that can help protect a child, prevent more harm to the child or siblings, and promote positive change within a family.
Child welfare experts worry that vulnerable children could face a heightened risk of abuse and neglect as coronavirus-related school closures keep them at home and away from the nation's largest group of hotline tipsters: educators. 
Teachers, school counselors and other educational professionals report one in every five child-mistreatment claims in the nation, according to the U.S. Department of Health and Human Services. Other major sources include law enforcement and social workers. 
In the coming weeks we will likely see more stress in families due to job loss, poverty, social isolation and heightened anxiety. We're asking everyone to pay attention to the children in their neighborhoods. Watch for signs of abuse and neglect. If you're uncertain what those are, visit the Division of Child and Family Services website. If you have a concern, call Utah's Child Abuse and Neglect Hotline 1-855-323-3237. Don't hesitate to call if don't have all the answers, just be honest and acknowledge what you don't know. Remember, your responsibility is to identify and report situations if you believe abuse or neglect has occurred.
According to the CDC, protective factors may lessen the likelihood of children being abused or neglected. Below is an article found on the CDC website that is useful in identifying and understanding both risk and protective factors. Remember, it's as important to strengthen the protective factors for children as it is to lower their risk factors.
Risk and Protective Factors
Risk factors are those characteristics linked with child abuse and neglect, but they may or may not be direct causes. A combination of individual, relational, community and societal factors contribute to the risk of child abuse and neglect. Although children are not responsible for the harm inflicted upon them, certain factors have been found to increase their risk of being abused and or neglected.
Risk Factors for Victimization
Individual Risk Factors
Children younger than 4 years of age
Special needs that may increase caregiver burden (e.g., disabilities, mental health issues, and chronic physical illnesses)
Risk Factors for Perpetration
Individual Risk Factors
Parents' lack of understanding of children's needs, child development and parenting skills
Parental history of child abuse and or neglect
Substance abuse and/or mental health issues including depression in the family
Parental characteristics such as young age, low education, single parenthood, large number of dependent children, and low income
Nonbiological, transient caregivers in the home (e.g., mother's male partner)
Parental thoughts and emotions that tend to support or justify maltreatment behaviors
Family Risk Factors
Social isolation
Family stress, separation or divorce, and violence, including intimate partner violence
Parenting stress, poor parent-child relationships, and negative interactions
Community Risk Factors
Community violence
Concentrated neighborhood disadvantage (e.g., high poverty, high unemployment rates, and high density of alcohol outlets), and poor social connections.
Protective Factors for Child Abuse and Neglect
Protective factors may lessen the likelihood of children being abused or neglected. Identifying and understanding protective factors are equally as important as researching risk factors.
Family Protective Factors
Supportive family environment and social networks
Concrete support for basic needs
Nurturing parenting skills
Stable family relationships
Household rules and child monitoring
Parental employment
Parental education
Adequate housing
Access to health care and social services
Caring adults outside the family who can serve as role models or mentors
Community Protective Factors
Communities that support parents and take responsibility for preventing abuse
Content source: Center for Disease Control, National Center for Injury Prevention and Control, Division of Violence Prevention